Hello! Hola! Bonjour!
My name is Laura, and I'm so thrilled that you're visiting my website!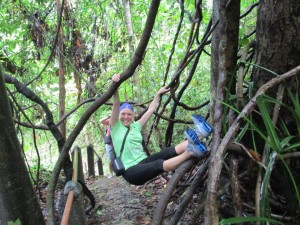 Quick bio: I wrote my first book when I was in first grade. It was called "The Smurf Circus" and it got great reviews from the kindergarten classroom next door. About 15 years later, I got my bachelor's degree in journalism from the University of Wisconsin-Oshkosh. (I was also lucky to run four years of collegiate indoor/outdoor track & cross country. Go Titans!) After graduation, I worked full-time in the daily newspaper industry for four years before getting married and starting a family. Best business decision EVER!
I was able to continue working part-time while raising my kids, first as managing editor of Custom Publications for Gannett Wisconsin, then as site manager for MomsLikeMe.com. In recent years though, I've kept fairly busy as a full-time mom with several freelance marketing projects, writing/editing assignments and volunteer opportunities. And just to keep things lively and interesting, I've also written a novel. Yep. A real one!
But to really understand me, you have to know that I'm passionate about several things: my family, first and foremost; my faith as a newbie Catholic; and my career as a writer. I also have many hobbies — running, reading, cooking, trying new wines, traveling (like the picture of me in the jungle?) and vacationing "Up North" with my family — but passions are passions, and they speak to the heart of who I am as an individual. Thanks be to God for allowing me to share my passion for writing with all of you!
If you have a thought you'd like to share or a question or comment (or recommendation for an excellent bottle of red), please get in touch with me through the "Contact Laura" page! And thanks for stopping by!